100 MHz operation
Up to 32 MB memory buffer
16 bit digital pattern
Optional external clocking
Output voltage 1.25V to 3.3V
USB-powered
Win32/64 GUI
C/C++ API included for free
Read more

→
Price starts at:
450 EUR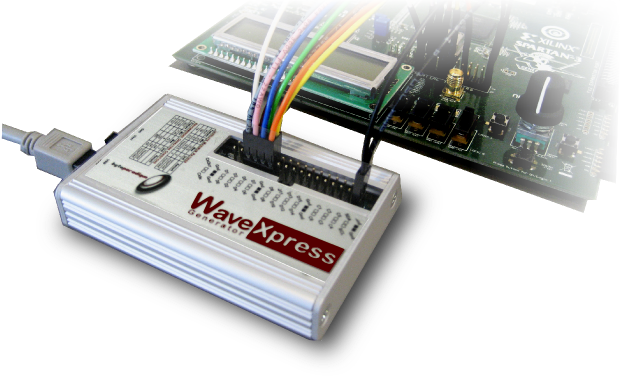 What is a digital pattern generator?
A digital pattern generator is an essential stimulus source for almost every type of digital device: digital and mixed-signal ASIC, FPGA, microprocessors and microcontrollers. The digital pattern generator can be used early in the design cycle to substitute for system components that are not yet available.
Because nowadays circuits use digital interfaces that may run at more than a few 10th of megahertz, the old way to do it with microcontrollers coupled with a GPIO is not practicable any more. By substituting for missing pieces and offering maximal flexibility when generating digital logic signals, digital pattern generators speed up new product's time-to-market.
The digital pattern generator is an effective solution just about anywhere that complex digital bit streams are needed to stimulate a device under test (DUT).
Read more

→
How does it work?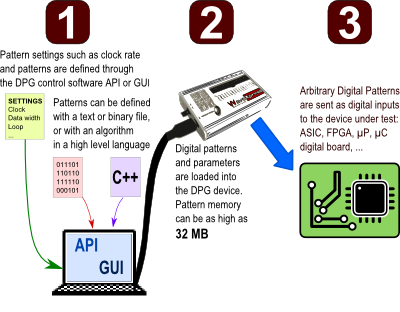 Technical resources
Download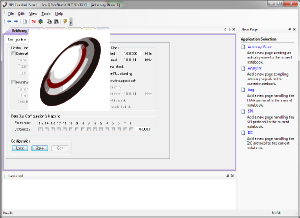 Request license
Please use this form to request your license file for 8PI Control Panel.

Your serial number can be found on a label at the back of your device.

Documentation
Wave Gen Xpress – Digital Pattern Generator
October 29, 2012