END OF LIFE NOTICE – Storm, Xpress & GP241xx series
As of April, 23rd, 2018, Byte Paradigm announces the end-of-life of all models of SPI Storm, LOG Storm, Xpress and GP-241xx series.
The sales of the devices mentioned above will continue within the limits of our stocks. If the stocks are not sufficient to fulfill orders, minimum order quantities apply to all new productions.
Record GIGABYTES of bus traffic
Zero-latency trigger rearm
Up to 8 MS memory buffer
20 bit / 100 MHz sampling
State analysis up to 125 MHz
SPI and I²C monitor
Waveform viewer
+ Advanced data filtering
Go to Advanced Specifications

→
Price :

1,200 EUR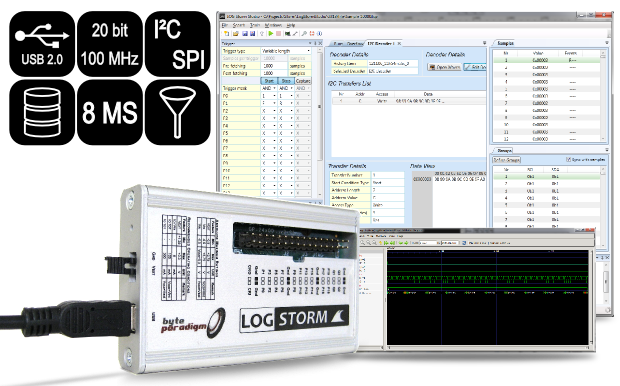 Logic Analyzer vs. Digital Data Logger?
Logic analyzer…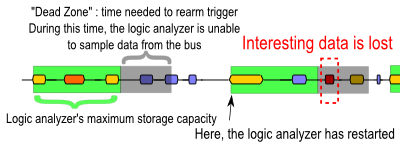 …is useful to collect samples. Within the limits of their internal memory, it defines 'visibility window' over digital lines and bus. Once its memory is full, data is ready for analysis with a waveform viewer. Usually, they can automatically rearm trigger, which allows extending the reach over data traffic. This introduces latencies, though, and you can miss interesting information.
Read more →
Digital data logger…


…is data-oriented. It uses data filtering or data qualification techniques to select and gather the data traffic that's relevant for you. A digital data logger is also able to be 'always-on', enabling data capture over longer work times. As a data logger, LOG Storm allows splitting capture into multiple files and automatic data streaming to your PC.
Read more →
Involved in FPGA design?
What about logging from inside the chip?
EXOSTIV is a complete solution used to record up to 8GB of trace data captured with an IP from inside the FPGA.

Get access to thousand of internal nodes of FPGA running at speed.
– Record unprecedented FPGA times of operation
– Capture rare or non-repeating events
– See more from your FPGA in the lab

With LOG Storm, you get: Logic Analyzer + Digital Data Logger + SPI Monitor + I²C Monitor
Technical resources
Download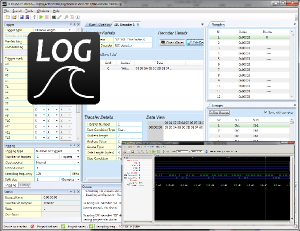 Documentation
LOG Storm – USB Logic Analyzer – High Speed Data Logger – SPI / I²C Analyzer
October 29, 2012